Welcome to the Nickelodeon Fanon Wiki!
A wiki that anyone can edit.
Here, you can create a new page and also upload a new picture. If you would like to share your ideas or suggestions with the community, you can create a blog post. Also, please read our policy before you contribute. We do not claim rights over any trademarked franchises. All trademarked franchises are copyright (c) their original owners. Keep in mind that you need to be thirteen or older to have a Wikia account.
If you need any help, please contact our admins.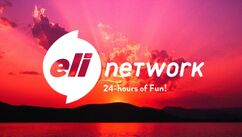 EliNetwork's sunset bumper, made by EliNinja



Revisited it's Wikipedia page recently. It's a really good channel, and it's got more animation tha…

Read more >

Big Pick show is here for summer 2015! vote for these pilots to join the Nicktoons Crazyness Line-u…

Read more >




After almost 5 years of using the same old Hub Network-like logo and branding, the Eli Network will…

Read more >
2,400 articles
since April 8, 2009.
204,832 edits have been made.
11,168 images have been uploaded.
1,537 videos have been uploaded.

3036 blog posts
have been made.
54 active users in the last 30 days.

24,294,700 users
have joined.
Over the years, original content (articles not about a Nickelodeon franchise) has become increasingly accepted here. Consequently, the
Nickelodeon Fanonverse
was formed to congregate some of our most popular original content, and we encourage you to check it out!
---
The Nickelodeon Fanon Wiki tolerates original articles with moderate, extraneous content (such as crossover characters). However, too much of this type of content will be considered irrelevant and deleted. We currently have a major irrelevant content issue. If you spot an irrelevant article, either message an admin or denote the article for deletion. An irrelevant article is an article that doesn't feature original content or features content not related to Nickelodeon, such as
Cartoon Network
,
Angry Birds
, etc.
FEATURED ARTICLE SYSTEM ON HIATUS

[[|Read More...]]


---